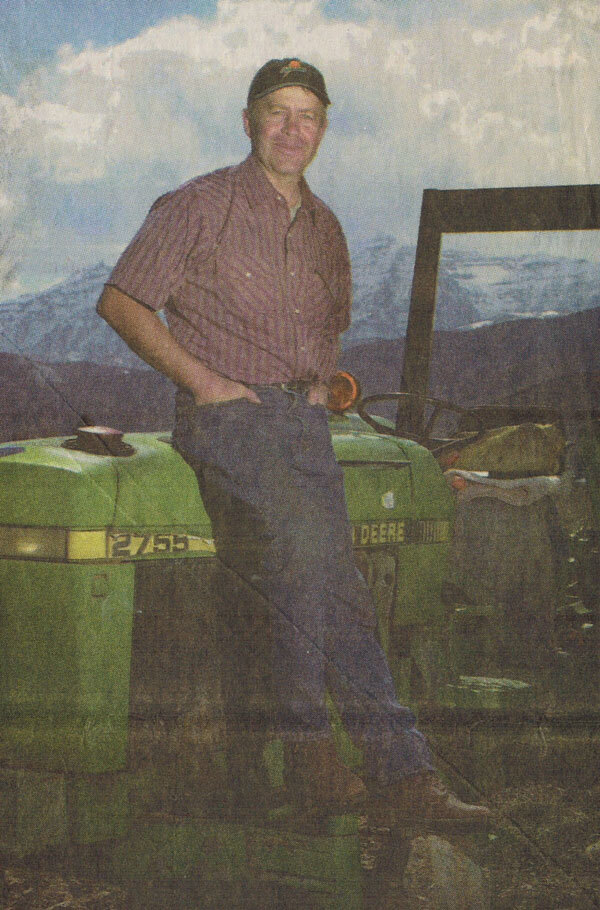 From a Dairyman to a Berry Man
By Gib Twyman (Deseret News staff member)
CHARLESTON, Wasatch County – Ken Probst was a securities broker in Denver when his dad brought him back to the kind of stock you find on a dairy farm instead of in a portfolio.
"What do you really contribute to the world?" Ken's father, Calvin Probst, kept asking about his son's stockbroker gig.
So Ken Probst, who had a degree in animal science from Brigham Young University, returned home to Heber Valley where he grew up and helped keep the family dairy business going.
But a few years ago, the dairy business began drying up, as it did for many independent Utah farmers. Ken Probst searched for a way to reinvent family income.
One quick fix would be selling the 250 acres Ken Probst and his father own. In real-estate-rich Heber Valley it would make them instant millionaires.
One problem: The Probsts were a homesteading family, coming from Switzerland to the valley in 1871. To them, relinquishing the land would be surrendering a vital organ.
"My dad always comes back to the same what-are-you-contributing question. The family's philosophy has been to enjoy the land and make it produce," Ken Probst said. "We just needed to find a way after dairy farming."
The solution to the jam was literally in Probst's back yard.
He began making gourmet preserves from the berries he'd been growing behind the home where he lives here with his wife, Mignon, and their five children.
It turned out Probst had a knack for whomping up batches of preserves in a shed, a stone's throw from the eight acres where he grows strawberries, boysenberries, blackberries, blueberries and raspberries.
Now his Probst Preserves sell in numerous specialty bread shops, most extensively the Great Harvest Bread Co., with locations from Provo to
Logan, and Lehi Mills, which sells a wide variety of Probst's products. He also sells throughout Utah by PK Sales of Park City.
This year he expanded out of state when People Gotta Eat Inc. of Dallas began ordering his preserves – and the new line of five salsas he started a few months ago.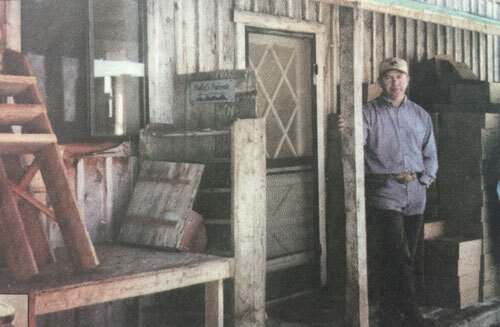 "All this is not something I ever planned. Sometimes things just happen," Probst said.
It began happening because Liz Sprackland came over to visit Probst one day. She's the general manager of Sundance Farms, Robert Redford's spread in Charleston where he keeps his string of horses and raises herbs and other goodies.
"She said, 'You grow berries. Why not make us some jam to sell to our visitors?' " Probst said.
For the whim of it, Probst sought out an acquaintance who owned a restaurant, and they made up batches in the man's kitchen.
Sundance wasn't crazy about the early versions. " 'To runny,' they told me," Probst said.
The secret to good preserves, he found, is the balance between fruit, sugar and pectin. Pectin, importantly, gives the product body.
"You want something that will spread, without using both hands on the knife, but if you go too light, you get Jell-O," Probst said.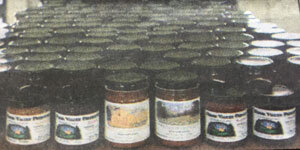 For six months, Probst experimented, mad-scientist-like, in his shed.
"That's why I never mind telling someone our recipes. It'd take them months to find the right mixture, even if I told them how to do it," he said.
He believes in the most basic ingredient. Fruit. Which may sound obvious, but not every jam sticks so dearly to that tenet.
His recipes contain up to 70 percent fruit.
"You have to be careful, because you lose the sweetness most people prefer if you don't balance it with the sugar," he said.
Another key is the right chunkiness.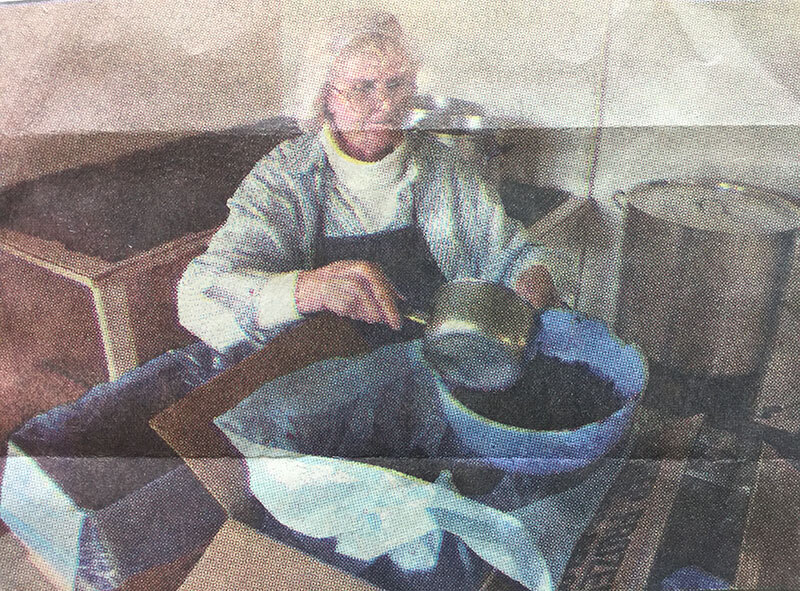 "We're looking for good substantial bits, somewhere between whole pieces and pulverized," he said.
Beat the pieces up too much and it cheapens it.
"We aren't trying for cheap," Probst said.
The best method of working the fruit over? Probst has tried many methods. He always comes back to the same trusty instrument.
"Potato Masher," he said.
What kind?
"An old kind," he said, pulling one out of a drawer. "Its got just the right heft."
"I'm not idealistic about doing it by hand. But until someone invents a machine that does it better, we'll keep mashing by hand to get the blend we want," Probst said.
Everything is done by hand, either by Probst or his only assistant, Karla Smith of Daniels. She was looking for something involving her first love, cooking, after raising six kids.
"I'm the cook and bottlewasher. Ken's the chief. So we make a perfect team," Smith said.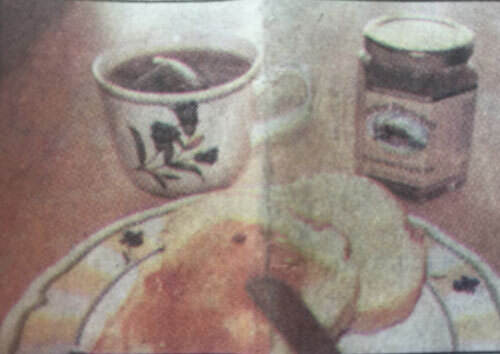 She scooped three pounds each of strawberries, raspberries, blackberries and blueberries for a "Mountain Berry" jam into a 36-quart pan, added the sugar and pectin, and set it to cooking for three hours on a stove.
Constant hand-stirring is required to keep the pan from scorching or bubbling over.
"It's very time-consuming, but you know you're getting tender loving care with each jar," Smith said.
You know the sweet goo is ready when about a half-inch of foam forms on top.
"You just spoon off the foam, and she's ready to put into the jars," Probst said.
The full jars with lids are put into a 100-quart vat and pressure-boiled for sterilization.
"You don't have a bacteria fear with preserves, but you have a mold fear. This takes care of that," he said.
Then either Probst or Smith applies labels by hand – usually with custom artwork created by customers.
Probst's cost for picking, cooking and bottling the berries: $2.20 a bottle. The rest you pay at the cash register is retail markup.
Some concoctions are sold under Probst's own Probst Preserves brand. "We live by a time-honored tradition that quality comes on an individual basis," the label says.
Some jams sell as Heber Valley Preserves. Some are packaged expressly for PK Sales. One hot number is Sin City Salsa, a play on the jalapeño-spiked bite and Park City's supposed wicked ways. Another is This Is The Salsa, trading on Brigham Young's famous "This Is The Place" pronouncement.
"They also sell 'And These Are The Chips,' " Probst said with a grin.
If you're lucky, you might tie into his cinnamon peach preserves, Probst's personal favorite.
"That's the one my mom (the late Joan Probst) made for us kids growing up," he said.
On a normal morning, Probst is up by 4:30 a.m., starting the first batch of the day. That takes him up to 7:30, when he strolls over to the house to help get the kids breakfast and off to school.
Four of the kids – Jackson, 13; Liesl, 10; Alex, 8; and Jean Louise, 3 – are adopted. The fifth, Brian, 6, a foster child, soon will be.
Even on this front, Probst's into blending. Alex and Jean Louise are African Americans, unique in heavily white Heber Valley.
"It's been just great – I hope for them, but I know it has been for Mignon and me," he said.
The land, the kids, the business.
Life's a lot about preservation for Ken Probst.
Nature's Hollow Founding
In 2007, Ken's friend and neighbor, Gordon Langford, told him about xylitol and how it can be used to create sugar free products. With diabetes on the rise and with too many sugar sweetened condiments on the market, Ken wanted to make healthier options for consumers. Nature's Hollow was born and a portfolio of delicious sugar free condiments and jams were created on the foundational values of good health and great taste.